Revisit History with Heritage Hotels of Rajasthan
Heritage Hotels or Resorts in Rajasthan just for you
Shiv Niwas Palace, Udaipur
in Our List Of heritage hotels in Rajasthan, this heritage hotel Of Udaipur Rajasthan Situated inside the city palace complex this palace is equipped with all the modern facilities along with an opulent interior from the past. This heritage resort of Rajasthan was erected in the first half of the 20th century, during the rule of Maharana Fateh Singh. It was originally built for a comfortable stay for the visiting guests and dignitaries of the Mewar royal family.
Located on the shore of the Lake Pichola and Samore bagh gives a beautiful view through the window and balcony of the suits. Premium suits are available furnished with all the modern amenities. Just ask for heritage hotels in Rajasthan and we will be happy to book your Udaipur tour package.  We serves  to provide you more services in Udaipur city tour as you can hire a taxi services in Udaipur online and Self Drive Cars in Rent in Udaipur with us in a very easy way. If you are a solo traveler you can also go for a Bike Rental Services to see the street view of Udaipur.
                       Distance from airport-25kms
                      Distance from station-3kms
Taj Fateh Prakash Palace, Udaipur
This is one of the best heritage hotels in Rajasthan, Taj Fateh Prakash Palace is located on the shore of Lake Pichola and forms a part of City Palace Complex,  Udaipur. This palace gets its name after Maharana Fateh Singh of Mewar dynasty. With distinctive turrets and domes, this heritage resort in `Rajasthan showcases an exclusive collection of unique paintings, chandeliers, and crystal crockery.
Book for an exclusive heritage stays with Padharo.
                     Distance from airport-24km
                     Distance from the station- 3km
Rambagh Palace, Jaipur
This comes next in Our heritage hotels in Rajasthan, the Rambagh Palace was built in the year 1835 AD for Kesar Badaran, the queen's favorite handmaiden. After transforming it into a palace in 1925, this heritage hotel in Rajasthan was used as the residence of the Maharaja of Jaipur. Thereafter, in 1957, the Palace got overhauled into a plush hotel by Maharaja Sawai Man Singh II. In 1972 it was taken over by the Taj Hotels Resorts and Palaces.  Book an exotic Jaipur tour package to experience best heritage resorts in Rajasthan.  We provide you multiple services in Jaipur city you can hire a taxi services in Jaipur online and Car in Rent in Jaipur with us.
               Distance from airport- 10km
               Distance from the station- 3km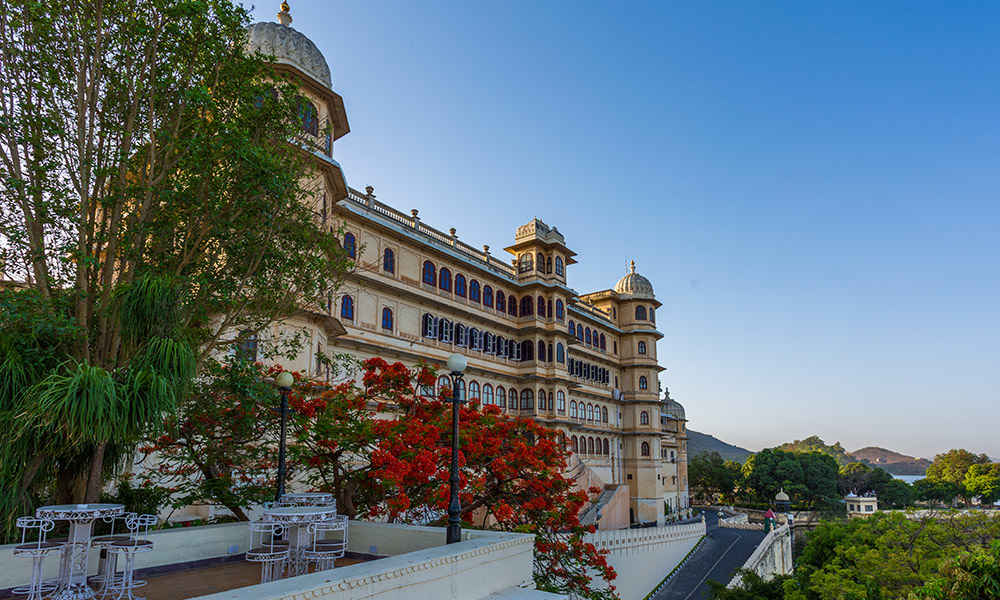 Umaid Bhawan, Jodhpur
How about staying in the 6th largest private residence in the world? Exceptional hospitality and legendary ensembles put it at the top of the best heritage hotels in Rajasthan.  Book for all types of experiential stays for the Jodhpur tour package. To reach this beautiful place you can hire a Jodhpur Taxi Service or you can go by Car rental in Jodhpur.
                  Distance from airport- 13km
                  Distance from the station- 1km
Ajit Bhawan, Jodhpur
Continue with our list of heritage hotels in Rajasthan, This property built-in the year 1927, Ajit Bhawan was commissioned entirely for Maharadhiraj Sir Ajit Singhji, the younger brother of Maharaja Shri Umaid Singhji of the erstwhile princely state of Jodhpur. Spread over an area of 20,500 sq. feet and fitted with world-class luxuries, make it resonate with the taste of the discerning visitors from across the world who are looking for heritage hotels of Rajasthan.
                Distance from airport- 3km
                Distance from the station- 2km
Narayan Niwas Palace, Jaisalmer
This Heritage hotel of Rajasthan is an ancestral property of the 19th century transformed into a heritage hotel of Rajasthan. If you have a luxurious bend of mind and taste for heritage than this is the right place for you. Feel every bit like a royal even in the midst of the desert. It brings to you the imperial opulence, tranquil solitude of the desert and the adventure of dunes.
              Distance from airport- 5km
              Distance from the station- 3km
Get a glimpse of the regal history of Rajasthan and get yourself pampered with a luxury holiday in the royal state of Rajasthan. To make your holiday more comfortable we can book tour packages, vehicle rental, tour guides, events and activities for you. Just ask us to make your travel experience smoother.