See Jaipur through the eyes of a traveller
Jaipur tour package is much more than, just seeing a city covered in hue of pink. Colorful festivals, fairytale forts, enchanting cultural insights and impressive architecture pervade every nook and corner of the city. If you schedule your visit timely, you can enjoy Elephant Festival in March, Kite Festival during Makar Sankranti and Jaipur Literature Fest in January. The best time to visit Jaipur is in winters. Preferably between November – March. In this blog we have covered every nitty-gritty of Jaipur tour to make your travel incredibly easy.
Best places to visit in Jaipur
Hawa Mahal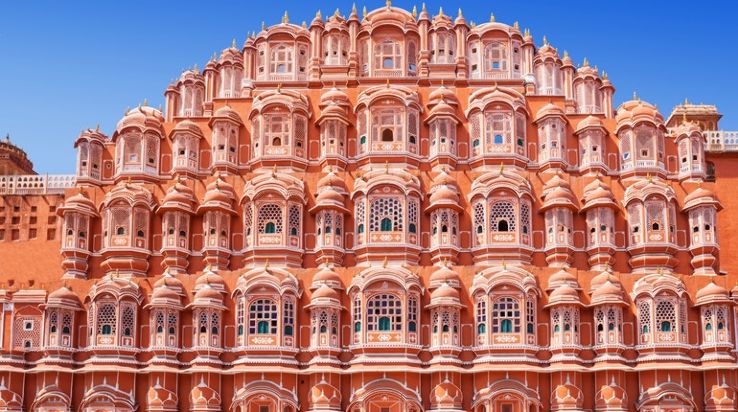 Hawa Mahal earned its name on account of the 953 casements which keep the mahal cool and breezy even during summers. The design of the windows was such that the royal ladies could see the everyday happening on the streets without being noticed by public. For tourists who want to learn about the history of this building, a visit to the Hawa Mahal Museum, just behind the monument, is a must. It displays relics, artifacts, statues, and other historical memorabilia that commemorates Rajasthan's royal history.
Amber fort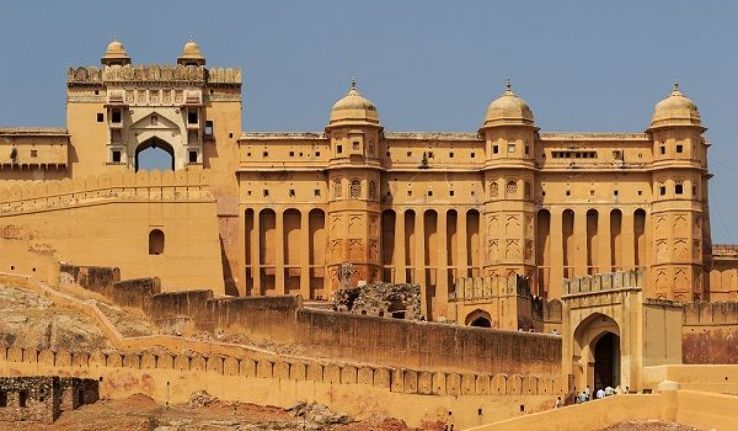 Amber at a distance of 11km from Jaipur, happens to be the erstwhile capital of the state. Amber fort is built with red sand stone and marble, with the Maotha lake adding an usual charm to Amber fort. Some prominent buildings that form part of the fort are: Diwan-i-Aam, Sheesh Mahal and Sukh Mahal. Amber fort exhibits an influence of Hindu and Islamic architecture.
City Palace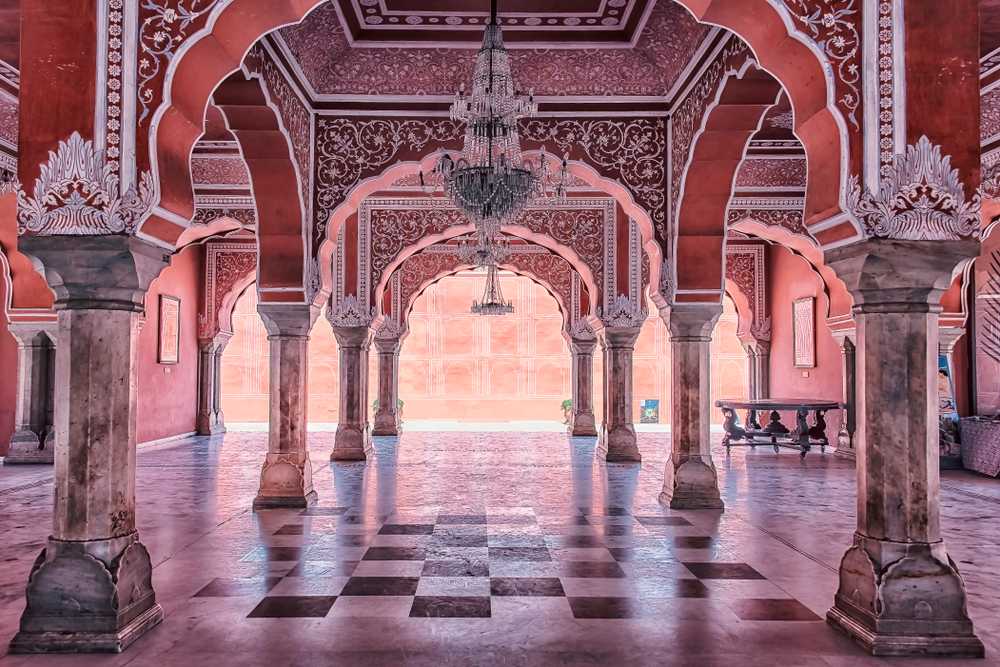 City palace exhibits an amalgamation of Rajput, Mogul and European style of architecture. Apart from Chandra Mahal and Mubarak Mahal, City palace houses many other structures. Today, part of the City Palace is home to the Maharaja Sawai Man Singh II museum, which showcases historical relics and art forms of the region.
Albert Hall Museum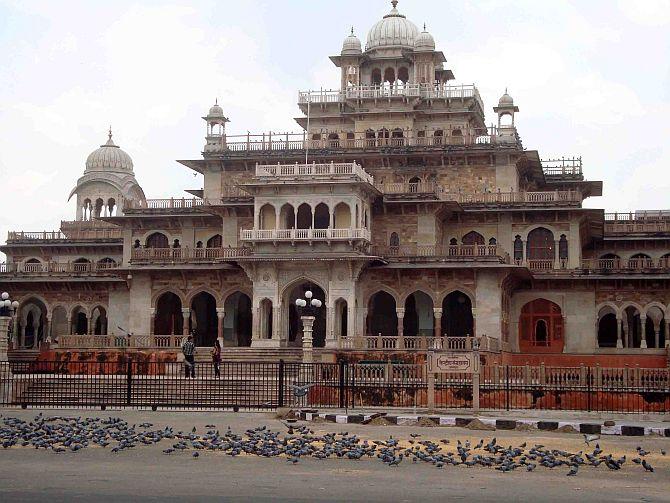 Albert hall museum is home to an industrial arts exhibit. This museum displays artifacts and information on the history of the traditional arts forms of Rajasthan. Its primary purpose is to support local traditions and customs inherent to Rajasthan.
Jantar Mantar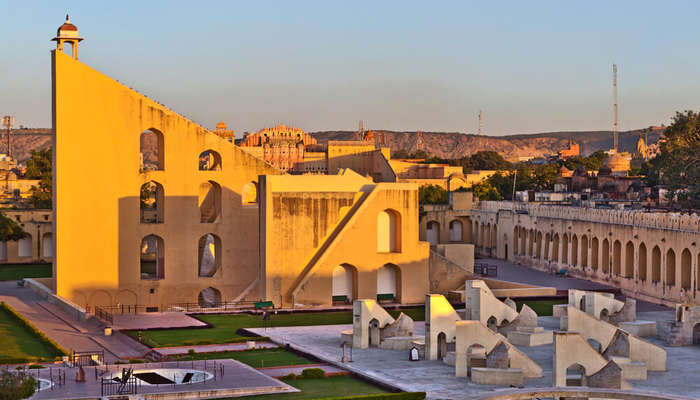 Jantar Mantar; Jantar Mantar built by Maharaja Sawai Jai Singh II features the world's largest stone sundial. India has five such observatories, and the largest one happens to be in Jaipur. Jantar Mantar observatory which finds a place in UNESCO's World Heritage sites list.
Best places to visit near Jaipur
Tonk
Distance from Jaipur: 90 km
Tonk is known as the 'Lucknow of Rajasthan'. Tonk forms a power-packed Jaipur tour package with old mansions and mosques and Sunheri Kothi or Mansion of Gold. Exploring the architectural wonders, relaxing by the side of the lake and relishing marvelous artwork of gorgeous temples and mosques are the best things that keep you engaged.
Sariska
 Distance from Jaipur: 133 km
Best time to visit: October to June
Sariska is one of the most preferred locations for your weekend trips, especially if you love wildlife and adventure. Popular as 'the Abode of Royal Bengal Tiger', Sariska offers thrilling jeep safaris that let you spot tigers, endangered bird species, striped hyenas, leopards, jackals, monkeys, and deers.
Alwar
Distance from Jaipur: 138 km
With mysterious forts that tell stories of the bygone era, vintage forts, or sparkling lake for boating and relaxing—Alwar is a complete package offering intense travel delight. If you are planning a trip to Jaipur in February, do not miss to visit Alwar for Alwar Festival. In November and December, you can experience the lively Matsya Festival.
Ajmer
Distance from Jaipur: 153 km
Attractions like the pious Dargah Sharif of Moinuddin Chishti, magnificent Ana Sagar Lake, and Taragarh Fort will make your trip exciting.
Pushkar
Distance from Jaipur: 161 km
To witness peace and tranquility inherent to Pushkar, include it in your Jaipur tour package. Visit the world-famous animal fair during the winters and the local market for trendy shopping.
Bharatpur
Distance from Jaipur: 188 km
Bharatpur is very famous for its natural attractions like Keoladeo National Park and its native historical edifices. Keoladeo National Park houses nearly 370 species of animals and birds. 
Padharo Tour Packages
Full day sightseeing tour
Full day city tour of Jaipur is for 8hours from 10am- 6pm. Vehicle rental charges, driver charges, audio guide and fuel expenses are included in the tour package. The full day city tour includes City palace, Albert hall museum, Hawa Mahal, Jantar Mantar and Amber palace.
Half day sightseeing tour
Half day tour package is for duration of 4hours. Clients have the privilege of deciding the time-slot as per their convenience. Vehicle rental charges, driver charges, audio guide and fuel expenses are included in the tour package. Birla Mandir, City palace, Albert hall Museum, Hawa Mahal, Jantar Mantar and Amber Palace are included in half-day tour.
Jaipur Tours according to days
Padharo also provide's Jaipur tour package for 2days and 3days. The prominent tourist places included in the package are: Central Park, City palace, Jal Mahal, City palace, Nahargarh fort, Hawa Mahal, Jaigarh fort, Jantar Mantar and Amber Palace.
Jaipur Tour Packages
✓ Best Price
✓ Quality Service
✓ No Hidden Charges
✓ 24*7 Availability
Activities in Jaipur
Elephant ride (8.30am to 5pm)
We recommend you to visit the Amer Fort early in the day (before 9:00 am), to guarantee a ride and avoid the queues. During the peak season most of the elephants have finished their quota of rides by 11:00 am. These elephants are decorated with traditional painted patterns and effortlessly transport visitors up the steep slope to the fort.
Appu Ghar (10am to 7pm)
Have a gala time in Appu ghar with adventurous rides, enthusiastic activities, music and lip smacking food. Appu Ghar also has an adventure park which has something for people of all age groups. Interestingly, Appu Ghar has a golf course as well as a resort. However, the water park section will be opened to the public soon.
Events
Elefantastic(12.30pm to 3.30pm)
Visit Elefantastic Elephant Farm – an interesting and informative farm that provides fun activities while making you aware of the biggest mammal on earth. There are 23 female and one male elephant on this farm. You can enjoy taking an elephant safari. A variety of birds and small animals are also housed in this attraction in Jaipur. It is a perfect place to spend some fun time with family and kids.
Nehargarh cycle tour (10am to 7pm)
Nahargarh cycle tour covers the trail from Jal mahal to Nahargarh fort, situated at the height of 700ft. Cycle through the trail with trees lining up on both sides of the road. Good place for nature lovers and fitness enthusiasts. Before the tour begins, the tour leader brief's the participants on necessary details related to tour.
Zip lining in Jaipur (10am to 6pm)
Ziplining offers you an escapade to the Aravalli Hills, where you can cross an entire valley on a taut rope at the height of about 50 ft from the ground. This adventure sport lasts up to 30 minutes, and all the proper safety guidelines are followed.
Jaipur tour has something or the other for everyone. The tours cater to a large diversity of travellers, be it families, friends groups, couples or elderly citizens. Book your trip with Padharo for a curated experience. So you need not worry about accommodation, food, transportation car rental in Jaipur and taxi services in Jaipur/Udaipur/Jodhpur/Jaisalmer. Our destination experts are ready to guide you with every small detail. And what's more, any package you choose can be customized as per your budget and convenience.
Jaipur Tour Packages
✓ Best Price
✓ Quality Service
✓ No Hidden Charges
✓ 24*7 Availability
Also Read:
Jaisalmer Tour Packages; Discover the Best Kept Secrets of Rajasthan.
Planning a trip to Udaipur? Find the best udaipur tour packages here